Digital Marketing Services for
Business Development
Since 2006
Our digital marketing services for strategic business development
with a data-driven approach and automated Google Ads and Meta Ads campaigns
create a higher ROI
Analytics and data-driven strategic development

Strategy and implementation of Google Ads advertising campaigns

Strategy and implementation of Meta Ads advertising campaigns
Data Driven Digital Marketing
Throughout our experience, we've seen a lot of statistical data. It's helped us to become extremely knowledgeable about key marketing indicators in various industries. For example, we're familiar with ranges of ROAS, CR, CPA, and other indicators in across all business types, so we can tell you exactly how you're doing.
Set Your Business Goals
Clear business goals and measurable KPIs help you stay on track. We'll create automatically updating KPI dashboards to monitor your business progress.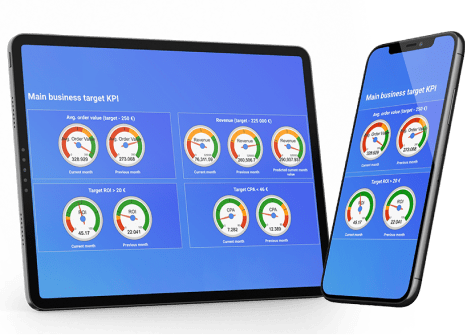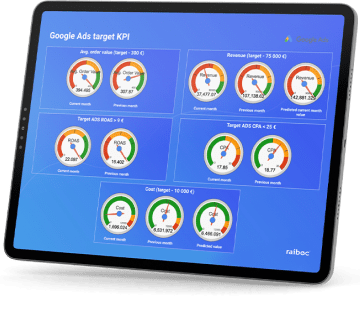 Allocate Investments More Profitably
Marketing KPI dashboards provide a better understanding of the effectiveness, utility, and contribution to business results of each action, promotion, and source of user traffic. Properly prioritized investments create greater value.
Manage Sales Channels Results Quicker
Every action in marketing is reflected in the graphs, which allows you to understand and react more quickly to the changes taking place.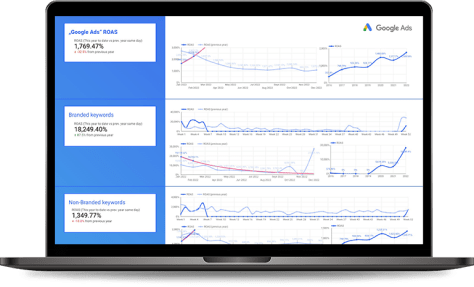 A Complete Set of Indicators in One Dashboard
3D KPI dashboard online to manage your marketing and sales performance.
The 3D KPI dashboard is designed to manage SEO, CRO, email marketing, Google Ads, Meta Ads, or other marketing performance activities.
More than 100 panels, and over 800 indicators.
The dashboard reveals the traditional media's influence on online sales.
That's the time it takes for business owners, shareholders, managers, or marketing professionals to evaluate results, guided by the special methodology of reading the 3D KPI report.
Marketing Automation
E-commerce businesses sell thousands of products. Each of them has a different rate of return and profitability. The higher the ROAS, the higher the profitability of your advertising and business. In order to maximize ROAS, we have automated the process of creating product Ads on the Google Ads network.
5 min
That's the time it takes to create Ads for 10,000 products on Google Search and assign target keywords to them.
+ 541% ROAS
Greater return of advertising campaigns compared to DSA (Dynamic Search Ads) advertising campaigns.
0 min
That's the time it takes for e-commerce accounts to inform the agency about the promotions so that the advertising campaigns can be updated accordingly.
Automated Ad campaigns simplify the Ad creation process.
Reduces Ad creation costs.
Increases the quality of advertising.
Provides greater testing capability.
Gives higher returns and profitability.
Marketing Automation Solutions Are Already Tested on These Platforms
We also adapt them to individual projects.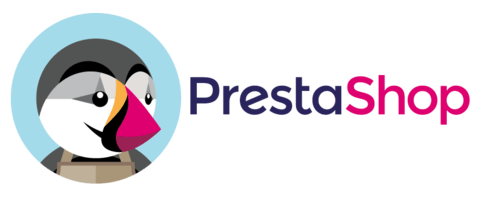 Discover a New Way to Scale Your Business